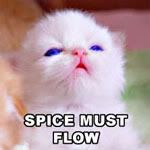 Never thought I'd be using an lol-cat as an image, but then again, I've never posted about the mid-80s Italo group named
Doctor's Cat
.
In some ways, there is very little to say about these two tracks-- they are simply among the most essential Italo-disco tracks ever released, with boundless energy (or should I say NRG?), fantastic synth hooks, great male/female vocal harmonies, and just enough cheese to make them wildly fun to dance to. Listen and I'm sure you'll agree.
Doctor's Cat- Feel the Drive
Doctor's Cat- Gee Wiz
Next time, look forward to a new Jichael Mackson track and a surprise. Also, sorry for the long period between posts-- I've been moving into a new apartment, and things have been a bit crazy. More frequent updates start today!